Updated 07-18-2022
Meetings are held on the third Thursday with exceptions as noted.
Please consult your physician about Covid-19 vaccinations. Many elligible people are still unvaccinated. The Mercersburg Historical Society is dependent upon local meeting locations in area churches and organizations. The Society cannot meet in facilities that are closed due to concerns about the spread of Covid-19.
2022 Meetings
The annual (September - October 2022) Nancy Horton Heefner Memorial Art Show at Mercersburg Academy.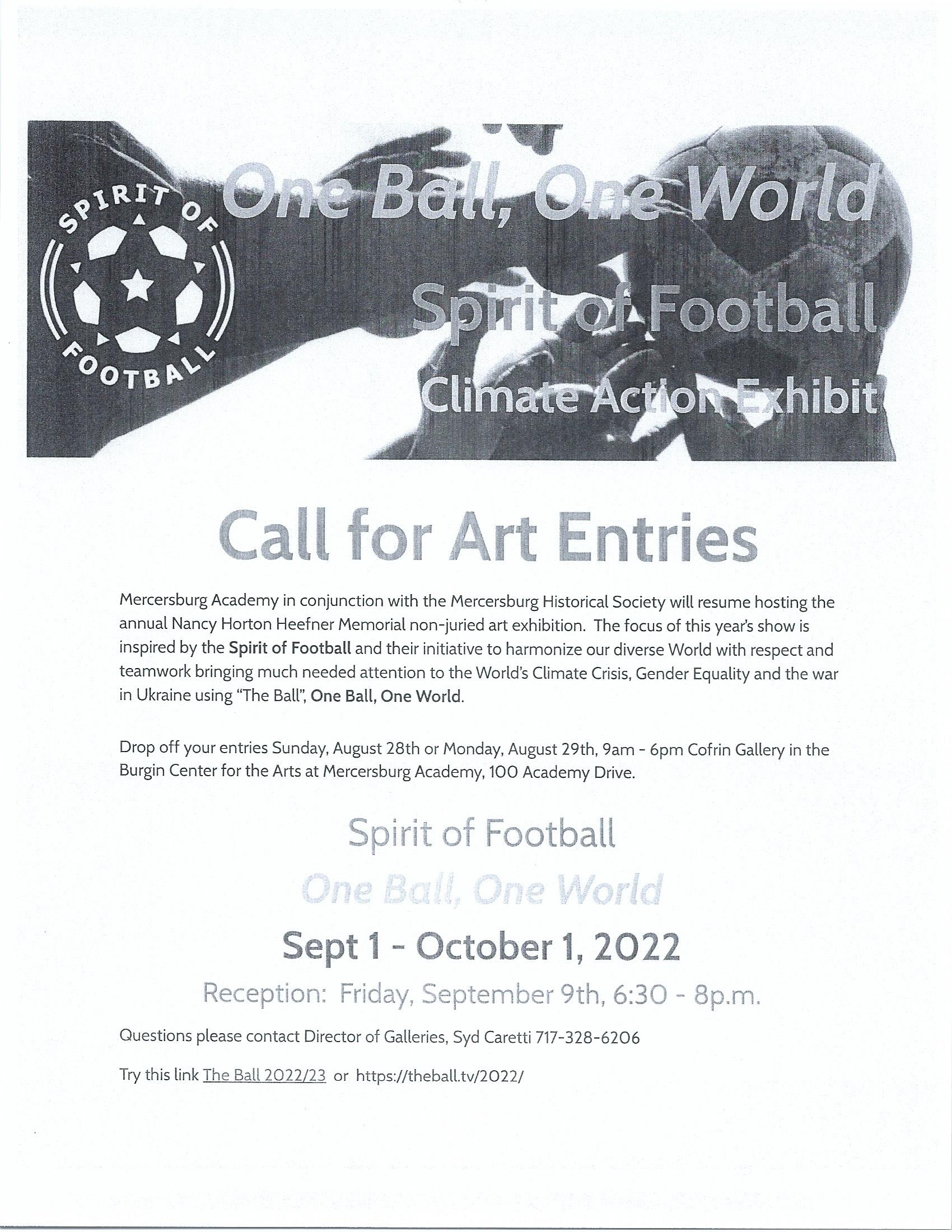 Call for Art Entries
Mercersburg Academy in conjunction with the Mercersburg Historical Society will resume hosting the
annual Nancy Horton Heefner Memorial non-juried art exhibition. The focus of this year's show is
inspired by the Spirit of Football and their initiative to harmonize our diverse World with respect
and teamwork bringing much needed attention to the World's Climate Crisis, Gender Equality and the
war in Ukraine using "The Ball", One Ball, One World.
Drop off your entries Sunday, August 28th or Monday, August 29th, 9am - 6pm Cofrin Gallery in the
Burgin Center for the Arts at Mercersburg Academy, 100 Academy Drive.
Spirit of Football
Sept 1 - October 1, 2022
Reception: Friday, September 9th, 6:30 - 8 p.m.
Questions please contact Director of Galleries, Syd Caretti 717-328-6206
Try this link The Ball 2022/23 or https://theball.tv/2022/
Application:
One Ball, One World at Mercersburg Academy is an opportunity for artists to exhibit their artwork
inspired by Spirit of Football's initiative to harmonize our diverse World with respect and
teamwork bringing much needed attention to the World's Climate Crisis, Gender Equality and the war
in Ukraine all with One Ball, One World. This show is non-juried so please submit artwork that best
displays your style and interpretation of the show's focus. Work older than 2 years will not be
accepted. Artwork must be ready to hang on a wall or displayed on a pedestal. One entry per artist.
Please see exhibition guidelines for full details.
EXHIBIT ENTRY DEADLINE - forms and artwork due no later than 6pm Monday, August 29th, 2022
Artist name:
Address:

Phone: Email:
Title of work:

Medium: Year:

Waiver Release and Agreement - please initial each statement.
I, as the exhibitor, understand that Mercersburg Academy will take every
reasonable step to ensure safe handling and exhibition of my art.
I understand that Mercersburg Academy does not carry insurance for exhibited
works of art.
I release Mercersburg Academy, its staff, members, employees, volunteers, and
agents free and harmless from any loss, or damage that may happen to my art, or resulting cost or
liability during the time that my art is at Mercersburg Academy.
I also agree that this waiver, release, and agreement is to be binding on my
heirs and assigns.
I also agree to allow Mercersburg Academy and Spirit of Football use of
artwork images taken in conjunction with the exhibition, preparation and take down, for the
purposes of promoting the exhibition during the exhibition and in the future.
I have carefully read this waiver, release, and agreement. I fully
understand its contents. I am aware that this is a release of liabilities and a contract between
Mercersburg Academy, its staff, students, faculty, and myself and agents and I sign it of my own
free will.
I understand that my work is to arrive at Mercersburg Academy Burgin
Center for the Art, Cofrin Gallery by 6 pm, August 29, 2022 and will remain on exhibit through
October 2, 2022. If I do not pick my work up by 4 PM October, 2022 I will not hold Mercersburg Academy accountable
for the safekeeping of my work.
Artist Signature Date
Staff use only: Work received by Date

EXHIBIT ENTRY DEADLINE - forms and artwork are due not later than Sunday, August 30th, 2022
For your reference:
Exhibition Application Guidelinesand Information
• Artwork must have been completed in the last 2 years and fits the theme of the exhibit: Spirit
of Football- One Ball, One World. Climate Action, Gender Equality, United with Ukraine.
• Artwork should be labeled on the back with the artist name and title of work.
• Artwork size is limited to 36 inches for the horizontaldimension.
• Framed artwork hanging systems should consist of eye hooks with wire. No easel backs, please.
• All types of visual media are accepted, but please see specific show guidelines for details. No
printed copies of original artwork will be accepted.
• Mercersburg Academy reserves the right to final curatorial and installation decisions.
Display
All works to be hung must be securely wired and ready for display. No picture frames with easel
back stands will be accepted. We encourage simple, quality frames that reflect a level of
professional presentation and not home decor. All entries must remain on exhibit until the show
closes. Artists who desire to insure their work must make their own arrangements. Mercersburg
Academy will not be responsible in case of loss or damage. All reasonable care will be taken with
entries.
Entry Checklist
Completed Entry form
Signed Waiver form
Labeled artwork matches entry form information.
Please review and adhere to exhibition guidelines
Any questions, please contact Director of Galleries, Syd Caretti, 717-328-6206
carettis@mercersburg.edu
PICK UP Artwork:
Sunday October 2nd, 1 - 6pm and Monday October 3rd, 9am - 6pm and 7 - 9pm.
Attach this label to the back of the artwork you enter.
- - - - - - - - - - - - - - - - - - - - - - - - - - - - - - - - - - - - - - - cut here - - - - - - - - - - - - - - - - - - - - - - - - - - - - - - - -
Artist name:
Address:
Phone: Email:

Title of work:
Medium: Year:

The Ball: One Ball, One World
Football for Climate Action
Summary
Since 2002, Spirit of Football (SoF) has kicked The Ball - football's equivalent to the
Olympic Torch - to 5 FIFA World Cups visiting 50+ countries. SoF intends to tackle the most
pertinent challenges facing societies and the planet using the unifying power of
football in education and as an advocacy tool. In 2022 and 2023, the project is supported
by, among others, the Swedish Postcode Foundation and our Fair Play Ambassador Liverpool FC coach Jurgen Klopp.
SoF will co­ - create (with partners) and
open-source interactive education resources that encourage workshop participants to
identify environmental problems in their local setting, demonstrate their global relevance and
showcase possible solutions to climate change. Climate actions will be taken by the participants
and the communities they are part of. In addition, governing bodies, clubs, players,
influential personalities and fans will be asked to sign The Ball en route and by doing so, commit
to carry out an action with a positive impact on the environment.
Background
Since 2002, SoF, an award-winning, non-profit organisation focusing on education and
advocacy, has been running programmes using football as a tool to tackle the most
pertinent challenges facing societies and the planet. Operating under the three
principle pillars of diversity, respect, and teamwork, SoF's The Ball project has taken one
special ball from Battersea Park, London (where the world's first official match of football took place in 1864)
around the world to 50+ countries and five FIFA World Cups. For the first time, The Ball will
travel to the FIFA Women's World Cup taking place in New Zealand and Australia in 2023. The journey
of The Ball is similar to the Olympic Torch, except that anyone can kick, head, and sign The
Ball - and by doing so make a commitment to protect the Earth and its inhabitants. Previous The
Ball journeys focused on the integration of refugees and inclusion of intellectually
disabled people resulting in 50,000 people signing The Ball. In 2010 and 2014 ourpartner
Special Olympics was able to use The Ball to connect with local communities in an unprecedented
way and kick-start their unified football initiatives in Africa and the Americas. In 2022
and 2023, SoF will deliver climate action workshops all over the world.

Partners
Tackling climate change is a team effort, which is why we are grateful for the many partners, who
are already supporting us on the realisation of this project. This list is ever growing and
includes: Alive and Kicking, Common Goal, Enable, Equal Playing Field, FIFA Foundation, Fly
Green Alliance, Football Beyond Borders, Football for Future, Football Supporters
Association, Football United, Football Ecologie France, Friedrich Ebert Foundation,
GIZ, London FA, Pledgeball, Rapid Transition Alliance, Renn Mitte, Sport Positive,
Street Child United, teilAuto, UNFCCC, Worldmark Films and Yuvam Dunya.

Collaboration Possibilities
With people across the world being impacted by climate change in the most different ways, SoF
focuses on a collaborative and participatory approach right from the start. We invite everyone
interested in joining us on this journey towards more environmental sustainability to
reach out, especially when you are interested in:
Receiving detailed information about The Ball journey that begins on July 10 in London. Hosting
The Ball to show how climate change is impacting your local community, highlight the
actions that you are already taking, and/or raise awareness on the challenges you face
and successes you have had, when trying to take climate action.
Collaborate on module development to help us ensure that the created and open­ sourced
material is relevant in as many geographical and cultural contexts as possible. Receive a training
to support the implementation of the developed resources.
Please contact jenny@spiritoffootball.de for more information.
Further resources
• The Ball Website
• Presentation at the UN Climate Conference COP-26 in Glasgow
• 5-min video of The Ball 2014 (London to Sao Paulo)
• The role of our Fair Play Ambassador Jurgen Klopp

MONTHLY MEETING information will be updated soon:
Mondays, July 11, 18, 25, 2022, 6:30 PM - Historical Tours of Center of Mercersburg. Since the content and itinerary of each tour are the same, those wishing to participate may choose which evening they wish to attend. However, participants are asked to call 717-328-2248 in order to register for a tour, which each evening will begin at 6:30 PM at the Fendrick Library.
Thursday, August 18, 2022, 7 PM - Tour of Unger Distillery site at Cove Gap, host Cory Buterbaugh.
RECENTLY ADDED! Friday, September 9, 2022, 10 AM - Historical Tour of Mercersburg. The content and itinerary of this tour is the same as the July tours. Participants are asked to call 717-328-2248 in order to register for the tour, which begins at the Fendrick Library.
Thursday, September 15, 2022, 7 PM - Politics in Colonial Pennsylvania. Location to be determined.
Thursday, October 20, 2022, 7 PM - Quilts. Location to be determined.
Thursday, November 17, 2022, 7 PM - Mercersburg during World War I. Location to be determined.
Thursday, December 8, 2022, 7 PM - Christmas Memories. Annual Holiday Light Supper - Location to Be Determined.