Four Historical Markers
By Joan C. McCulloh
In 1915 the Woman's Club of Mercersburg, now the Women's Club, determined to have constructed and to place near their homes historical markers noting the lives of people who were prominent in United States history. It was the wish of the Club to have the markers manufactured to resemble those on the Gettysburg Battlefield. With the cooperation of the superintendent of the Chambersburg Engineering Company, H. E. Derbyshire, and the skills of the foreman, W. E. Freet, the Club commissioned and largely paid for the manufacture of four iron markers. After the members of the Club had written the scripts and submitted them to the Chambersburg Engineering Company, Mr. Freet directed their inscription upon the iron plates.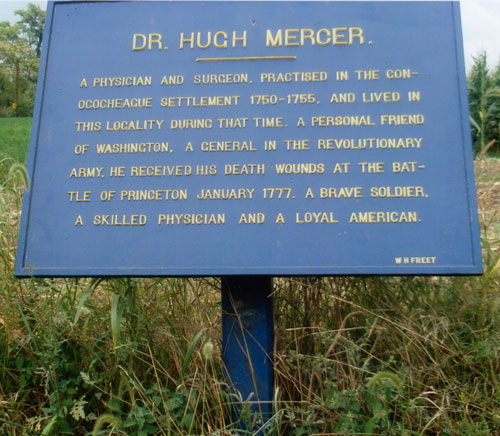 The first person to be honored in 1915 was General Hugh Mercer who had had a surgery and veterinary practice east of Mercersburg from the late 1740s until 1756 when he left to serve in the French and Indian War. This marker, "an iron plate similar to the markers on the Gettysburg Battlefield," which cost $41.00 and was paid for from profits from the sale of Old Mercersburg, a book of local history which the Club published in 1912, stands on route 16 three and one-half miles east of Mercersburg. After the initial success of this marker the Club gave the marker committee the authority "to erect, in the future, any other markers to noted people who lived in this vicinity."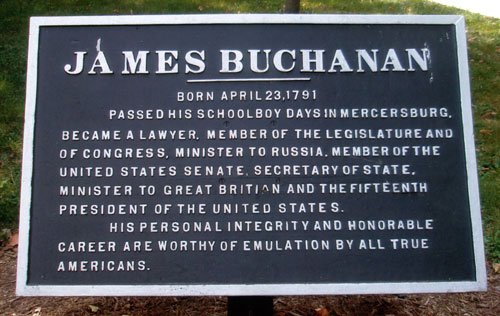 By October of that year the Club had installed two additional markers. One that originally stood at the entrance to James Buchanan State Park but now stands beside the Buchanan cabin on the campus of the Mercersburg Academy in Mercersburg commemorates James Buchanan, the fifteenth President.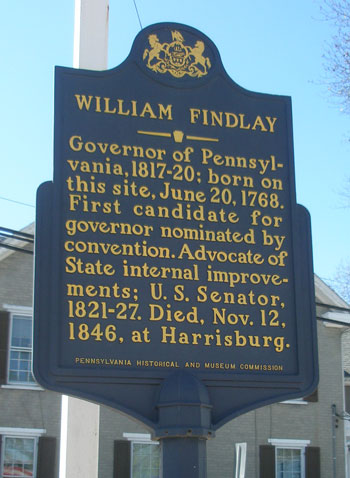 The other paid for by a descendant, William Findlay Brown of Philadelphia, in memory of Governor William Findlay, who served as governor of Pennsylvania from 1817 until 1820, was installed at the corner of North Main and Oregon Streets in Mercersburg.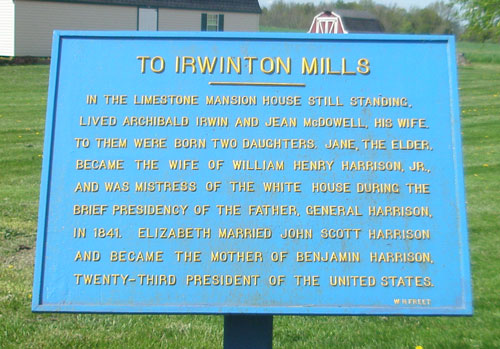 In 1916 the Club commissioned the manufacture of the same type of marker to honor the Irwin sisters, daughters of Archibald Irwin II, Jane Irwin Harrison, daughter-in-law of President William Henry Harrison, who served as hostess in the White House during President Harrison's brief tenure of office in 1841, and Elizabeth Irwin Harrison, mother of President Benjamin Harrison. Monetary contributions for this marker came from various members of the Harrison family: granddaughters of Elizabeth Irwin Harrison and daughters of President Benjamin Harrison, Elizabeth Harrison and Mrs. Mary H. McKee; great granddaughter of Elizabeth Irwin Harrison, Katherine Harrison; daughter of Elizabeth Irwin Harrison and sister of President Benjamin Harrison, Mrs. Anna Harrison Morris; niece of the Irwin sisters, Mrs. Mary M. Wolcott; and grandson of Jane Irwin Harrison, J. Scott Harrison. This marker is placed at the intersection of route 16 and Anderson Road three and one-half miles east of Mercersburg near the Irwin home.

Back to Mercersburg Area