Church Hill Cemetery Tour
Created By Chaplain (COL) (Ret.) Ron Martin-Minnich
With Deep Gratitude to An Eagle Scout, Our Area Local Boy Scouts and Many Volunteers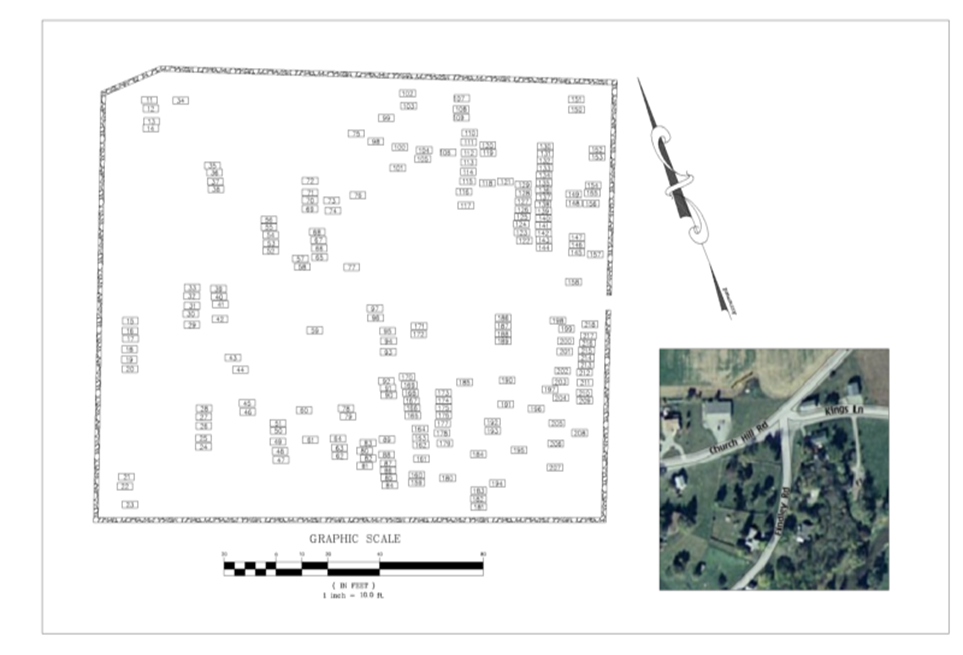 Who Were These People?
158 - Dr. John King (1740 – 1813) - John King was born December 5, 1740 in Little Britain, Lancaster County, Pennsylvania Colony.[1] His parents are Robert King and Ann McLaughlin - On August 30, 1769, he was ordained and installed in Upper West Conococheague Presbyterian Church, Pennsylvania Colony, ministering to 130 families. - On April 2, 1771, he married Elizabeth McDowell in Mercersburg, Franklin County, Pennsylvania Colony. They had no children. - On May 8, 1781, he begins a year of Revolutionary War service as a chaplain in Cumberland County, Pennsylvania, USA. He was an army private (patriot) in the 1st Battalion, 3rd Company, Cumberland County Militia, Pennsylvania. - In September 1811 he retired from service as the 42-year pastor of Upper West Conococheague Presbyterian Church in Mercersburg, Franklin County, Pennsylvania, USA. (This county was originally Cumberland, and was then spun off as Franklin County in 1784.) - John died on July 5, 1813 in Franklin County, Pennsylvania, USA. He is buried there in section 132 of Church Hill Graveyard, Peters Township. AS TRIBUTE OF RESPECT, To the memories of the, Reverend JOHN KING D.D., Upwards of 12 years the able reverend and Faithful pastor of the congregation, of Upper West Conococheague, Whose life exhibited the beauty of, holiness:, Whose deeds declared the triumph of, the cross., This MONUMENT, Is erected by the grateful children of, his pastoral care., They that be wise shall shine as the brightness, of the Firmament: and they that turn many, to righteousness as the stars for ever and ever.
The Smiths & Brownsons– 84-86 - Smiths – Squire William Smith (1721-1775) and his wife Mary (1725-1808) had five children; Jane (1748-1763), Rebecca (1752-1780), William Jr (1754-1786), Mary (1764-1848) and Robert (1768-1849). Through these five children, the Smith family became connected through marriages to three other Mercersburg families named Findlay, Irwin and Ramsey. James Findlay.
157 - Brownsons – Mercersburg Lot # 16 was purchased by the Irwin family, and today the restored log house located on the corner of Main St and East Seminary St is named for this family. Lot # 19 was purchased by Richard Brownson – later to be John Findlay's father-in-law. John Findlay married Richard's daughter Agnes Jane "Nancy" Brownson. Lot # 20 was purchased by John Brownson – later to be John Findlay's brother-in-law. John Findlay married John Brownson's sister Agnes Jane "Nancy" Brownson. John Brownson and Sarah Smith Brownson.
206 - The Irwins –The mentioned Irwin sisters were daughters of Archibald Irwin and Jean McDowell who had nine children. The oldest son James Irwin was connected to Squire William Smith's family. After the death of William Smith Jr, his widow Margaret Piper Smith married James Irwin. Another daughter Elizabeth Irwin married Robert Smith, son of Squire William Smith, and Archibald Irwin Jr married Mary Ramsey. One of the strong family connections in the Conococheague Settlement was that between the Irwins and the Findlays. Since James and Jane Irwin Findlay had no children, they frequently welcomed their nieces and nephews into their home. While there, the young people met their aunt and uncle's friends such as the Harrisons. While visiting her aunt and uncle and an aunt on her mother's side, who also lived in Ohio, Jane Irwin met William Henry Harrison Jr. In 1824 twenty year old Jane Irwin, daughter of Archibald Irwin II, married twenty-two year old William Henry Harrison Jr. at her home, Irwinton, on the Conococheague just as her aunt and uncle had been married there twenty-seven years earlier. A lawyer, he took his wife to Cincinnati, but unfortunately his life disintegrated as he encountered financial difficulties and soon developed problems with alcohol. They had a son, James Findlay Harrison, and another son who did not live to maturity. William Henry Harrison Jr. died in 1838. After William Henry Harrison had been elected as the nation's President in 1840 and was inaugurated in March 1841, his daughter-in-law, now a widow, Jane Irwin Harrison, became the hostess in the White House, as his wife, Anna Symmes Harrison, was ill and did not go to Washington. During Harrison's brief Presidency from March to April 1841 in which he died of pneumonia Jane Irwin Harrison, assisted by her aunt, Jane Irwin Findlay, who knew Washington society well since she had lived in Washington during her husband's years in the House of Representatives, served as the official hostess.
In 1831 seven years after the marriage of Jane and William Henry Harrison Jr. her sister, twenty-one year old Elizabeth (1810 - 1850), married William Henry's brother, twenty-seven year old John Scott Harrison (1804 - 1878). It is believed that Elizabeth and John Scott met at the home of Jane and William Henry Harrison Jr. This time, though, the wedding was either in North Bend, Ohio, the site of the residence of the Harrisons, or at the Point, John Scott's large farm in southwest Ohio. John Scott, however, was more stable and responsible than his brother. Interested in and concerned about his family, he provided well for his family both financially and emotionally. A farmer who served one term in 1853 in the United States House of Representatives, he had been married previously, but his wife died, leaving him with two small daughters, whom Elizabeth brought up with her own. He and Elizabeth had ten children, the second of whom was Benjamin named for several forbears including his great-grandfather, Benjamin Harrison, a signer of the Declaration of Independence and governor of Virginia. This Benjamin Harrison, grandson of the ninth President of the United States, served as the twenty-third President of the United States from 1889 – 1893. Jane Irwin.
145-147 - The Elliotts – Rev. David Elliott, married the Buchanan parents and baptized their children. Edward Elliott, Thomas Elliott and Jane Elliott.
199-218 - The Bards – 199 Isaac, 200 Richard, 201 Margaret, 211 Richard, 213 Archibald, 214 Elizabeth, 215 James, 216 Archibald, 217 Rowana, and 218 Thomas.
130-144 - The Bradleys – Stones showing the high mortality rates in this period.
121 - The McKinstrys – WILLIAM McKINSTRY, a native of the city of Belfast, Ireland, was the progenitor of the McKinstry family, of Mercersburg. In 1792, when about eighteen years of age, he immigrated to America, and landed at New Castle, Del. Remaining in that town for a short time, he proceeded to the city of Philadelphia, in which he designed permanently to reside. His residence there was, however, of short duration, for he was driven away by the epidemic of yellow fever, which raged with unexampled violence and fatality during the following year. He sought refuge in Lititz, Lancaster Co., Penn., in which his abode was also very brief. He next moved to Frederick City, Md., but, meeting with little encouragement to remain there, he soon began a weary walk to one of the distant Western States. Mercersburg lay on his route, and to it he came, with all his worldly possessions tied in a handkerchief, which was suspended from a stout hickory staff resting on his shoulder. But, if his share of this world's goods was small, he had almost a superabundance of what was of infinitely greater value ? a stout heart and indomitable perseverance. He remained over night in Mercersburg, lodging at a hotel kept by Peter Whiteside, in the house on the northwest corner of the public square, now owned and occupied by Mr. Charles H. Fallon, intending, on the next morning, to resume his journey. He chanced, however, to meet at W'hiteside's hostelry, a couple of residents of "The Corner" also named McKinstry, but in nowise related to himself. The strangers became interested in the ingenuous youth, and finally induced him to remain in Mercersburg.. He did this by purchasing the store of James Buchanan, the father of the late President Buchanan. It may be said incidentally that, to the end of his life Mr. McKinstry found in President Buchanan a warm and sincere friend. Rosanna McKinstry.
83 - The Findlays – William Findlay, Pennsylvania's 4th Governor - William Findlay was the grandson of Squire William Smith. William Findlay's mother Jane Smith daughter of Squire William Smith married Samuel Findlay. From this marriage, Samuel and Jane Smith Findlay had eight sons, two of whom died within a year or two of being born. John Findlay the oldest and his brothers William, James, Jonathan Thomas and Nathan all married and made significant contributions to the United States. The three oldest brothers all married women also born in Mercersburg. John Findlay married Nancy Brownson and later Jane McDowell. Brothers William and James married sisters, Nancy Irwin and Jane Irwin, respectively. - By the late 1700s these families owned hundreds of acres of land located very near each other. The Smith family owned the Mercersburg area land. The Findlays owned land near Mercersburg along Findlay Road in Peters Township. Traveling south on Findlay Road to Route 16 & Route 416 is the Ramsey land, and traveling south on 416 is the Irwin land, both in Montgomery Township. In addition, several of these families in 1768 purchased Mercersburg plots of land. - As previously stated, the marriage between Jane Smith and Samuel Findlay produced 8 sons, two of whom died as babies and six sons including our Governor William Findlay. As the daughter of Squire Smith, Jane and her Findlay boys lived in a home near the corner of Main St and Park Ave. She died at the age of 35 and left 6 sons between the ages of 18 and a new born baby. Jane's sister Mary Smith assisted with the younger boys' upbringing. Four years after Jane Smith Findlay's death Mary Smith married Col. Robert Parker in 1787. It was a year later in 1788, that husband Col. Robert Parker built the stone house that now is home to the Fendrick Library. Samuel Findlay and Jane Smith Findlay.
102 - John McHenry (1791 – 1822) Son of James McHenry (1753-1816) who was an aide to Gen. George Washington and Lafayette, Secretary of War and namesake for Fort McHenry and Margaret Caldwell McHenry (1762-1833). John McHenry attended St. Mary's College in Baltimore, became a lawyer, was active in the Presbyterian Church, member of the Society of Cincinnati and in several civic organizations. During the War of 1812 he was in the Fifth Regiment of the Maryland Militia. He married Juliana Elizabeth Howard, the daughter of Col. John Eager Howard and Peggy Chew Howard, on Tuesday, Dec. 7, 1819 at the Howard home Belvidere. She died months after giving birth to their son James Howard McHenry (1820-1888). John McHenry died in Mercersburg, Pa. of the fever and less than two weeks later his brother-in-law John Eager Howard Jr. (1788-1822), who came to help, died. The two are buried next to each other in the Presbyterian Church cemetery in Mercersburg.
103 - John Eager Howard, Junior (1788 – 1822) He was the eldest s/o Col John Eager Howard and Margaretta Chew and was suitor to Elizabeth "Bess" Caton prior to m. Cornelia Annabella Read, d/o Hon Jacob Read of SC at Drakie's Plantation, GA on 24 Dec 1820. In 1806 he graduated from Princeton. Cornelia, his wife, died 24 Dec 1862 at her residence on Franklin Street in Baltimore in her 65th year. They had one son: John Eager Howard III b. 3 Sep 1821 d. 1862 in Boston. John Eager Howard, Jr. was a member of the Governor's Council in 1817, secretary of the Maryland Agricultural Society in 1818, and was elected a member of the MD Senate in the place of George Winchester during the later part of 1819. He was made Cornet of The Baltimore Light Dragoons on 3 May 1813 and then 3rd Lt on 9 Dec 1813 of the newly formed First Baltimore Horse Artillery. The National Intelligencer posted on 19 Jan 1822: "Col John E Howard, Jr. was appointed by the Governor and Council of Maryland, to be Brig Gen of the 14th Brigade of the Maryland Militia in place of Gen Heath, deceased". His obituary in the newspapers just ten months later stated: "Brig Gen John E Howard, Jr., eldest son of our Revolutionary veteran of the same name, died at Mercersburg, PA, aged 34 years, of a fatal malady so prevalent at that place, where he had gone to attend his brother-in-law, the lamented, McHenry; both of them pride and ornament of their native city." He was buried at Church Hill Graveyard, Mercersburg, PA.

Back to Mercersburg Area