Mercersburg's Findlay Family Connections
By Margaret A. Lee-Williams
When researching an individual who became a prominent and well known historical figure, you soon learn that much has been already written about that individual's accomplishments and may be well known to most readers. But a reader or a member of a specific community can relate more to an individual if his family history is told and if the reader can relate to where this person was born, where he lived, who his parents were, what was his upbringing and what is his genealogy. If you live in the same area or walk the same streets as the subject of the research, you can better feel a connection.
In Mercersburg's history there are many individuals who were born and raised in this small town and have been acknowledged for significant contributions to the history of the county, state and country. My research began with a Mercersburg born man who has a large historical marker located in Mercersburg on the corner of Main Street and Park Avenue.
The Marker Text states -
"William Findlay Governor of Pennsylvania, 1817-20; born on this site June 20, 1768. First candidate for governor nominated by convention. Advocate of State internal improvements; U.S. Senator; 1821-27. Died, Nov. 12, 1846, at Harrisburg."
So who was this William Findlay who became Pennsylvania's 4th Governor? Let's take a moment to provide some background family information.
Many who reside in the Mercersburg area probably know of Squire William Smith. He purchased land in 1759 from John Black, and that land today is where the town of Mercersburg is located, specifically from the Park Avenue, Oregon Street and Main Street intersection to the Route 16, Route 75 and Constitution Avenue intersection.
Squire William Smith (1721-1775) and his wife Mary (1725-1808) had five children; Jane (1748-1763), Rebecca (1752-1780), William Jr (1754-1786), Mary (1764-1848) and Robert (1768-1849). Through these five children, the Smith family became connected through marriages to three other Mercersburg families named Findlay, Irwin and Ramsey. All four of these families have significant historical legacies. To visualize the family connections I offer the following diagram: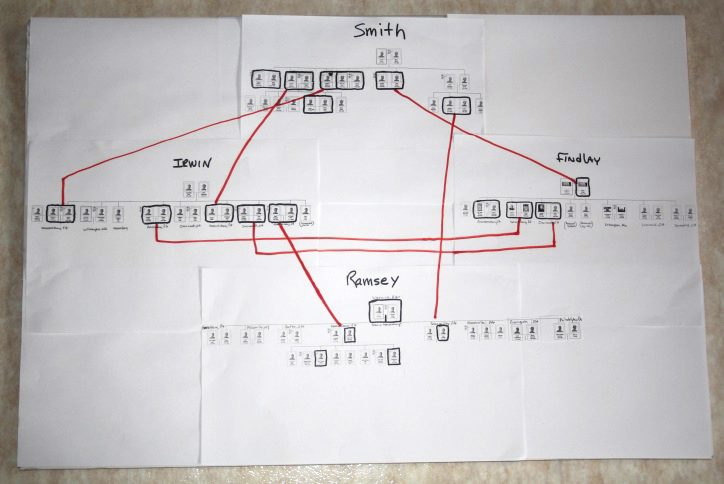 The following provides a more detailed explanation of these family connections.
William Findlay, Pennsylvania's 4th Governor - William Findlay was the grandson of Squire William Smith. William Findlay's mother Jane Smith daughter of Squire William Smith married Samuel Findlay. From this marriage, Samuel and Jane Smith Findlay had eight sons, two of whom died within a year or two of being born. John Findlay the oldest and his brothers William, James, Jonathan Thomas and Nathan all married and made significant contributions to the United States. The three oldest brothers all married women also born in Mercersburg. John Findlay married Nancy Brownson and later Jane McDowell. Brothers William and James married sisters, Nancy Irwin and Jane Irwin, respectively.
The mentioned Irwin sisters were daughters of Archibald Irwin and Jean McDowell who had nine children. The oldest son James Irwin was connected to Squire William Smith's family. After the death of William Smith Jr, his widow Margaret Piper Smith married James Irwin. Another daughter Elizabeth Irwin married Robert Smith, son of Squire William Smith, and Archibald Irwin Jr married Mary Ramsey.
James Ramsey and his wife Elizabeth were parents of Mary Ramsey who was one of eight children. James Ramsey owned the land and stone home called Millmont located at the intersection of Route 16 and 416. Another one of the Ramsey daughters Alice Ramsey married William Johnston who was a grandson of Squire William Smith. To clarify this family connection, Squire William Smith's daughter Rebecca married John Johnston. William Johnston was one of three sons born to Rebecca Smith Johnston.
By the late 1700s these families owned hundreds of acres of land located very near each other. The Smith family owned the Mercersburg area land. The Findlays owned land near Mercersburg along Findlay Road in Peters Township. Traveling south on Findlay Road to Route 16 & Route 416 is the Ramsey land, and traveling south on 416 is the Irwin land, both in Montgomery Township. In addition, several of these families in 1768 purchased Mercersburg plots of land.
As previously stated, the marriage between Jane Smith and Samuel Findlay produced 8 sons, two of whom died as babies and six sons including our Governor William Findlay. As the daughter of Squire Smith, Jane and her Findlay boys lived in a home near the corner of Main St and Park Ave. She died at the age of 35 and left 6 sons between the ages of 18 and a new born baby. Jane's sister Mary Smith assisted with the younger boys' upbringing. Four years after Jane Smith Findlay's death Mary Smith married Col. Robert Parker in 1787. It was a year later in 1788, that husband Col. Robert Parker built the stone house that now is home to the Fendrick Library.
Jane Smith Findlay's brother William Smith Jr inherited land from his father Squire William Smith, and upon her brother's death in 1786 the town of Mercersburg was named and approximately 150 lots were plotted and were for sale.
In Old Mercersburg, there is a 1786 map of the lots and lot owners.
William Smith's heirs kept lot # 25 – this is where Jane Smith Findlay and Samuel Findlay lived early in their marriage, and this is where William Findlay was born and raised as a young child. Lot # 24 across the street was kept by the heirs, and a stone house which stands today was built for William Smith Jr's daughter Sarah.
Jane Smith Findlay's husband Samuel Findlay bought lot # 9 – this is where the Mansion House is today.
Her son William Findlay bought lot # 14 located diagionally across the street from lot #9. He was 18 years old when he purchased this lot in 1786.
William's oldest brother John Findlay bought lot# 83 which is located on North Fayette Street, probably on the current site of the First United Methodist Church Faith and Fellowship Center.
Other noted lots on this map are Lot # 97 – corner of South Fayette Street and California Street was purchased by James Buchanan Sr who was a contemporary of William Findlay. James Buchanan Sr was just 7 years older than William Findlay and just 4 years older than John Findlay. James Buchanan Sr also purchased land in Peters Township next to the Findlay land.
Lot # 16 was purchased by the Irwin family, and today the restored log house located on the corner of Main St and East Seminary St is named for this family.
Lot # 19 was purchased by Richard Brownson – later to be John Findlay's father-in-law. John Findlay married Richard's daughter Agnes Jane "Nancy" Brownson.
Lot # 20 was purchased by John Brownson – later to be John Findlay's brother-in-law. John Findlay married John Brownson's sister Agnes Jane "Nancy" Brownson.
Also of note to those who are interested in the land purchases, the Pennsylvania US Direct Tax Lists of October 1798 documents land ownership and the homes and outbuildings that were built in and around Mercersburg.
By 1798, there were 45 homes built on the Mercersburg lots. Of interested related to the families mentioned in this article, the 1798 tax lists reflects the following:
James Buchanan Sr owned two lots in Mercersburg and 495 acres in Peters Township.
John Findlay owned one lot in Mercersburg and 251 acres in Peters Township.
Samuel Findlay owned 300 acres in Peters Township.
William Findlay owned 264 acres in Peters Township.
Archibald Irwin owned 215 acres in Montgomery Township.
James Irwin owned 1 lot in Mercersburg and 232 acres in Peters Township.
James Ramsey owned 1 lot in Mercersburg, 100 acres in Peters and 148 acres in Montgomery Townships.
Robert Smith (son of Squire Smith) owned 331 acres in Peters Township.
By 1800, the Findlay brothers began to excel in their careers, and their desires led them from their boyhood home. William Findlay continued to own land in Mercersburg, but his career took him to Philadelphia, Lancaster and Harrisburg. John Findlay moved to Chambersburg, and the other brothers moved west to Ohio and Missouri.
William Findlay born in Mercersburg in 1768 married Nancy Agnes Irwin in 1791 in Mercersburg's Upper West Conococheague Presbyterian Church.
In 1797, at the age of 29 William Findlay became a member of the Pennsylvania General Assembly until 1807. For his first two years in the Pennsylvania General Assembly, 1797-1799, Philadelphia was the capital of Pennsylvania. It is believed that the William Findlay family resided during that time in Philadelphia area.
In 1799, Lancaster became Pennsylvania's capital until 1812 when Harrisburg was named Pennsylvania's capital.
In 1807, William Findlay left the General Assembly and became Pennsylvania State Treasurer for 10 years until his convention appointment as Pennsylvania's 4th Governor at the age of 49.
During his time as Governor from 1817-1820, William and Jane Findlay rented a home in Harrisburg located at 21 North Front Street. This home still stands today and is occupied by the Art Association of Harrisburg. Originally built in 1810 for Robert Harris, the grandson of John Harris the founder of Harrisburg, Robert Harris rented this home to Governor Findlay and the succeeding Governor, Joseph Hiester.
During William Findlay's governorship in 1818, he laid the corner stone for the Capitol Building that was built in Harrisburg on land originally owned by William McClay and John Harris. In his 1817 Inauguration speech he stated,
"To accelerate the progress of internal improvement and thereby unite the whole state in one common bond of interest; to uphold, by all our energy, the liberty and independence of our country; to guard the rights of every citizen of the Commonwealth; to maintain the legitimate sovereignty of the state, on the one hand, whilst on the other we perform with fidelity our federal obligation to provide for the general dissemination of knowledge; to advance, by salutary regulations the prosperity of agriculture, manufactures and commerce, so far as they fall within the pale of state legislation; to render the administration of justice easy, expeditious and satisfactory; to establish an efficient militia system; to encourage those arts that supply and assist life; to cherish, by our example, the parity and beauty of the religion of the Redeemer, the only steadfast basis of that morality on which republics are founded; and to transmit, untarnished and undiminished, to our prosperity, those sacred principles of liberty and equal rights which we inherited from our principles of liberty and equal rights which we inherited from our fathers – "
In his 1818 Address to the People he commented on many of the same issues that are important today:
Education "is such an influence in improving and expanding the intellectual powers and infusing into youthful and untainted minds, correct idea of religion, justice and honor."
"Agriculture and manufactures are the great source of wealth and the only solid foundation of our comforts and independence."
Turnpike Roads – He stated that "about 980 miles of turnpike road have been completed and numerous elegant and substantial bridges erected"… and he called for "a general and comprehensive system for improvement."
Marriage – "the laws respecting marriage may deserve the attention of the legislature"…..He felt that the form and manner by "civil authority shall celebrate the marriage might be more clearly defined and better regulated." He recommended marriages to be directed to be registered in the proper county.
Borrowing Money - He also informed the people of Pennsylvania that "there are demands on the treasury"….and he "negotiated a loan of $50,000 with the Philadelphia Bank At 5% interest payable within 4 years." He went on to state, "Whether it may be necessary to make further loans….cannot be foreseen or controlled."
Governor Findlay did run for re-election, but many who supported him in 1817 felt that he did not appoint many of his supporters to office. At that time, the Governor had all the power to make appointments. Governor Findlay felt that the governorship had too much power and chose not to make such appointments.
After William Findlay's governorship at the age of 53, he was appointed United States Senator in 1821 and served until 1827.
During this time his older brother John Findlay who lived in Chambersburg, PA was appointed United States Congressman in 1821 and served until 1827. Their younger brother James Findlay, who lived in Ohio, was also appointed United States Congressman in 1825 and served until 1833. And, 30 year old James Buchanan Jr who in 1821 lived in Lancaster, PA was also appointed United States Congressman and served alongside these other Mercersburg born men from 1821 to 1831.
In a family related connection, it is interesting to note that William Henry Harrison Sr, related by marriage to the Findlay brothers, also served alongside them as a United States Senator from 1825 to 1827. William Harrison Sr later won the 1840 Presidential Election and became the 9th President of the United States.
In 1827, William Findlay was appointed Treasurer of the United States Mint, located in Philadelphia, PA. For 14 years, William Findlay resided in Philadelphia working for the United States Mint until 1841 at the age of 73 when he moved back to Harrisburg.
As the next generation of Findlays were born and marry, their lives and accomplishments extend again to notable prominent historical figures.
William Findlay's daughter Jane Irwin Findlay was born 1792 in Mercersburg, and his two sons Samuel Archibald Irwin Findlay born 1797 and John King Findlay born 1803 were both baptized in Mercersburg by Rev. John King, Minister of the Upper West Conococheague Presbyterian Church. It is believed that William's son John King Findlay was named in honor of Rev John King, minister from 1769 to 1811. Rev. John King also married William Findlay and Agnes "Nancy" Irwin Findlay in 1791.
William's wife Agnes "Nancy" Irwin Findlay died in 1824 at the age of 61. Daughter Jane married Francis Shunk who in 1845 became Pennsylvania's 10th Governor. During Shunk's time as Governor, William Findlay lived with his son-in-law and daughter in a home on North Front Street in Harrisburg that was directly next to the home he had rented during his time as Governor.
William Findlay died in this home in 1846 and is buried in the Harrisburg Cemetery. His monument memorializes both him and his wife stating "In memory of William Findlay Late Governor of PA Born 20th June 1768 Died 15th Nov 1846 and His Wife Nancy Irwin Findlay Born 27 April 1763 Died 27 July 1824." The burial plot in this 30 acre cemetery is located just off State Street on a hill overlooking Pennsylvania's capital.
William Findlay's son Samuel Archibald Irwin Findlay married an Irwin related first cousin - Sophia Van Lear who was the daughter of Mary Irwin Van Lear – a sister of Samuel's mother, Nancy Agnes Irwin Findlay.
William Findlay's brother James Findlay, married to his sister-in-law Jane Irwin Findlay, lived in the Cincinnati area along with other family relatives, near Nancy Ramsey Sutherland and husband John Sutherland. With the untimely death of Mary "Polly" Ramsey Irwin wife of their brother-in-law Archibald Irwin Jr, James Findlay and Jane Irwin Findlay as well as Nancy Ramsey Sutherland often hosted the Irwin children in Cincinnati, Ohio. It was in Ohio, that Jane Irwin oldest daughter of Archibald Irwin Jr met and married William Henry Harrison Jr who was the son of William Henry Harrison Sr the 9th President of the United States. It was Jane Irwin Harrison the President's daughter-in-law and widow of his son William Harrison Jr, who along with James Findlay's wife Jane Irwin Findlay assisted President Harrison in the White House for the 32 days that he was President of the United States. The President's wife Anna was too ill to travel from Ohio to Washington.
It also was in Ohio that Elizabeth Irwin youngest daughter of Archibald Irwin Jr and sister of the previously mentioned Jane Irwin Harrison met and married John Scott Harrison, a son of William Harrison Sr and a brother of William Harrison Jr. Two sisters became sisters-in-law. Elizabeth Irwin Harrison gave birth to Benjamin Harrison, who became 23rd President of the United States.
So in conclusion, when driving through Mercersburg as you sit at the traffic light, think about what Mercersburg might have been like in the middle 1700s before the American Revolutionary war and then after the war in 1786 when Mercersburg was born and people in the community were beginning to purchase plots of land and build homes. William Findlay's grandfather Squire William Smith would be proud to see that a plaque has been erected on his land, honoring a grandson who governored Pennsylvania.
William Findlay - References
Armor, William C, Lives of the Governors of Pennsylvania, 1872
Art Association of Harrisburg, "A History of the House 21 North Front Street," 2014.
Engle, William Henry, History of the Counties of Dauphin and Lebanon in the Commonwealth of Pennsylvania; Biographical and Genealogical, 1883
Findlay, William, "William Findlay's Inaugural Address December 1817," Pennsylvania Governor, 1817.
Findlay, William, "Governor's Message December 5, 1818," Pennsylvania. Governor, 1818.
Greene, Le Roy, Shelter for His Excellency, 1951
The Women's Club of Mercersburg, Old Mercersburg, 1912; reprinted 2001.
Torrence, Robert M. "The Six Sons of Samuel Findlay of Mercersburg, PA., and
an Incident at the White House." Reprinted in Arnold-Hertzel "Genealogies of
Pennsylvania Families," from The Pennsylvania Genealogical Magazine, vol. I,
Baltimore: Genealogical Publishing, 1982, p. 532-552.
US Department of the Interior, National Register of Historic Places, "Findlay Farm," 1982
www.ancestry.com
www.findagrave.com
1798 Pennsylvania US Direct Tax List

Back to Persons of Interest, Mercersburg Area